This post is for people in the digital industry; the employers, the employees and the people who are looking to enter the industry. To help, the She Does Digital team have collated ten things that we can all do to #pressforprogress, celebrate International Women's Day 2018 and encourage more women into our industry. 
Want to jump ahead?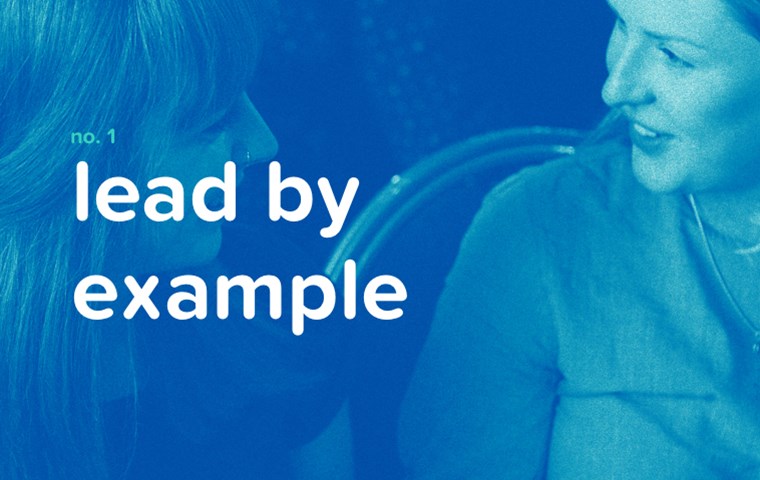 1. Lead by example
Mentoring doesn't naturally happen for women in the workplace, so we have to make an effort to encourage more people to do it.
I have been involved in two mentoring schemes. One is part of the Lean In circle in Leeds who set up a mentor matchmaking scheme and the other was one that She Does Digital created with Leeds University and Epiphany. Groups like kerningthegap.com also allow people to meet mentors/mentees. Don't forget to check local university websites to see if they offer similar schemes too!
Being a mentor is beneficial for both the mentee's and your own development. Advancing someone else's abilities and confidence is an important and valuable skill in itself. Just take a look at what Sarah Tulip, COO at AQL, has to say:
One of the best things about my role is the opportunity to build up and support the amazing women and girls around me. Having a fantastic network of like-minded, ambitious and successful people around you means you can lean and fall on each other during the bad and good times in what sometimes can be a lonely place. Always take care of those around you and have their backs.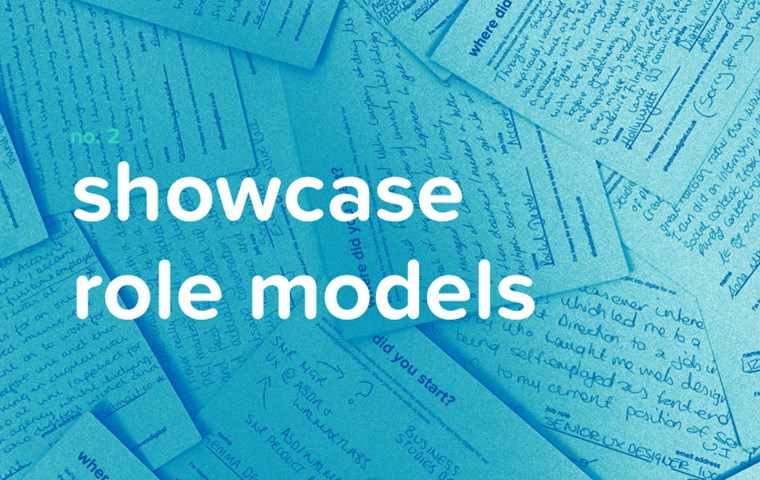 2. Showcase role models
The digital industry could, and should, do more to showcase female role models doing their jobs day in, day out. By doing so, more people would be exposed to the field of digital and aspire to join the industry.
Discovering and showcasing female role models is a huge part of what we do at She Does Digital. Our #wheredidyoustart campaign looks to highlight the various role models across our industry in Leeds and further afield.
So far we've published over 20 start-up stories, with new features every other week. If you'd like to share your story, or if you know of anyone who'd be perfect to feature, please email us at [email protected]!
Not everyone has a conventional or 'easy' route into digital. Everyone is different and their experiences, day-in and day-out, varies massively. Here at She Does Digital we've met so many inspiring women and have heard so many different and interesting stories - why not share yours with us?
by Rose Mountague, Creative Director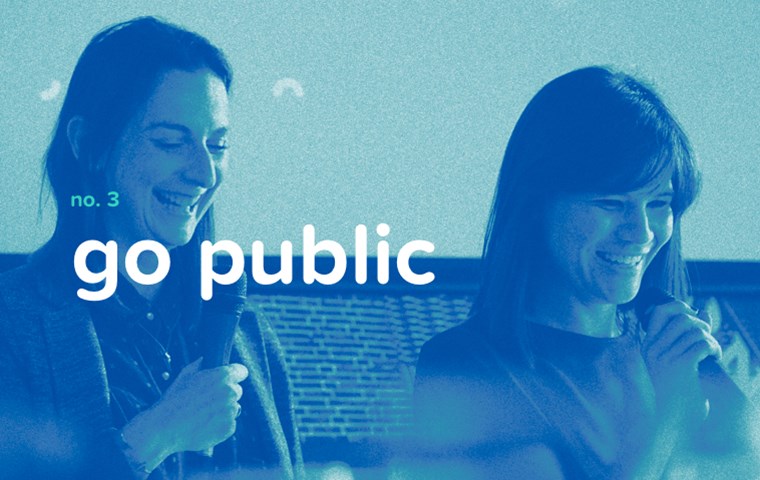 3. Go public!
Public speaking is a major fear for so many people  - ranking higher than the fear of heights, clowns, spiders, snakes and, apparently, even death.
I can believe this, as I would say I felt more nervous at my first proper speaking "gig" than I did when I got married, or jumped out of a plane. Now, I have a job which requires public speaking on a regular basis. Why would I, as an introverted, autistic, ISFJ-T, put myself through this, I hear you ask, and why should you?
Putting yourself out there and getting up on stage has a number of huge benefits, despite how scary it might seem. It's an amazing way to get you and your personal brand out there and establish yourself as someone who is great at what they do.
That is, of course, once you get past the "I have nothing to say and even if I did, why would people want to listen to me, because I am rubbish", phase.
Putting yourself out there and getting up on stage has a number of huge benefits, despite how scary it might seem. It's an amazing way to get you and your personal brand out there and establish yourself as someone who is great at what they do. That is, of course, once you get past the "I have nothing to say and even if I did, why would people want to listen to me because I am rubbish", phase.
But how do you get past that phase, particularly when Imposter Syndrome is telling you to not bother? Fake it till you make it! Seriously. Remember that the people who invited you to their event believe in your planned content and, more importantly, in you as a presenter. Regardless of whether you pitched to speak, or were asked, that's the most important thing you can bear in mind.
Another great reason to do it is the confidence boost and adrenaline rush you get when you come off-stage. While some of it will undoubtedly be relief at having gotten through it/not thrown up/not fallen over, there will be a big rush of endorphins and you'll feel great - you'll have done something many other people fear doing, and in doing so have imparted valuable knowledge to those who listened to you.
My third reason to try your hand at public speaking, particularly as a woman, is to try and be a role model to other females in the industry. You'll be the one to prove there are talented women who are not afraid to get up and let themselves be heard. You'll show event organisers that there are plenty of women out there willing to speak at events to help change the ratio. And by sharing your knowledge, you're the one showing other women that you want to help them follow you up the ladder.
What if you're willing to give public speaking a go, but have no idea where to start? I've written an entire post on how to get started, take a look here at my public speaking top tips!
by Arianne Donoghue, Paid Media Development Manager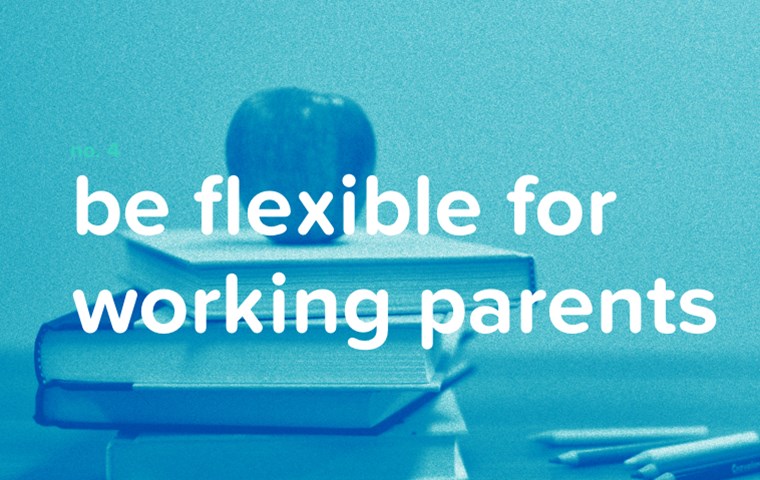 4. Be openly flexible for working parents
I'm 31 weeks pregnant and about to start a family. This topic is one super close to my heart. I have no idea what I am letting myself in for, or how having a child is going to change my outlook on my career and my life, but deciding to put my career on hold for up to a year and start a family was a huge decision for me.
I have been married twice, once to my husband and the other to my work. I've worked my way up into a senior management position and I'm not going to lie when I say I'm not worried about this suffering when I return to work. There are so many questions floating around my head… will I forget how to do my job? Will I be able to keep up with the ever-changing industry? Will my job still exist when I come back? If it does, can my job fit around my new priorities? Will my employee allow me to be flexible with nursery pickups? Can I even afford it? Will I be judged because I can't put in the hours like I used to? The list of worries goes on and on...
I'm fortunate that my current employer has been quite open about being flexible around me to date but I know this isn't the case for many mums and parents I have spoken to. Despite the new legislation for parents to share parental leave, I don't think society and employers are doing enough to encourage it. It often comes down to the mum taking all, if not the majority of the leave, which makes sense especially if babies are breast feeding, but more could be done if employers could endorse both mums and dads to share their leave.
Employers should do more to educate and make SHP available to both parents and actively encourage flexible working around employees with families.
Although the UK is better than some countries, we still lag behind a lot of other European countries such as Finland, Sweden, Belgium, Norway and others who offer parents much better options around parental leave. Although this isn't going to change anytime soon, I feel like as UK employers in the digital industry we can do more to offer greater flexibility to parents and especially to mums who share the same fears as me when it comes to returning to work.
Imagine if more digital employers could be more open to flexible working for parents? Imagine if they could advertise it widely? What if it was the norm? We are a digital industry after all, surely we can adapt and accommodate?
Take a leaf out of the book of those businesses who have signed up for the workingmums.co.uk top employees charter which promotes employers who fully embrace the business case for flexible working. We live in the age where you can work from practically anywhere providing you have internet and a laptop, is it time we start to shake up the archaic 9 to 5 and openly work around our talented people instead of the clock?
by Rose Mountague, Creative Director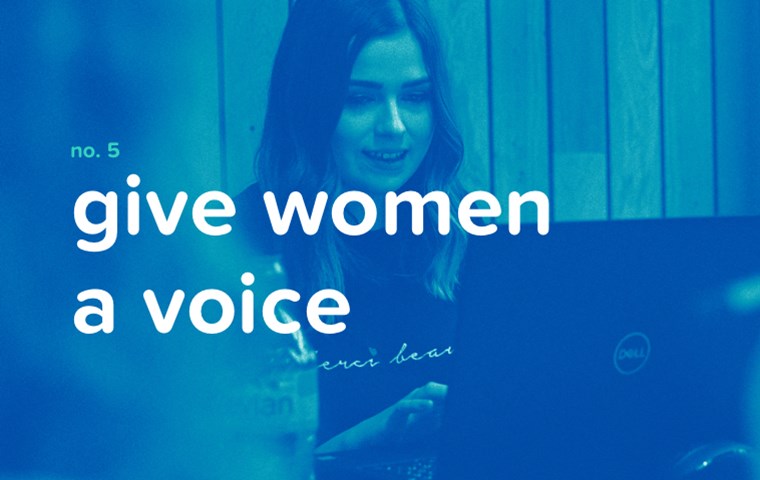 5. Give women a voice
I used to feel intimidated going into a meeting room full of senior male marketing professionals. I had this idea in my head that they thought I was stupid or didn't know what I was talking about, or even just that they didn't take me seriously, all because I'm a woman. I let these ideas bother me to the extent where I become so stressed out and experienced major self-doubt - silly, right?
After speaking to other women in the industry, I realised I was not alone in feeling this way.
However, I also sought advice and came to realise that these nagging voices of criticism were mine and no one else's.
I presumed to know what other people were thinking, which of course, I didn't. Once I had that figured out, I filled that dark void in my mind full of positives in the form of feedback. I used all of the great feedback I got from meetings to replace the negative self-doubt in my mind, replacing fiction with fact. In other words, I got out of my own way.
My advice to any other women in this industry experiencing self-doubt? Clear your own path. Don't allow self-doubt to drag you down because chances are that stupid thing you thought you said in a meeting – no one else even noticed! Replace negative thoughts with positive facts, and get out there and be the best you possibly can be. 
by Lizzie Lewington, International SEO Manager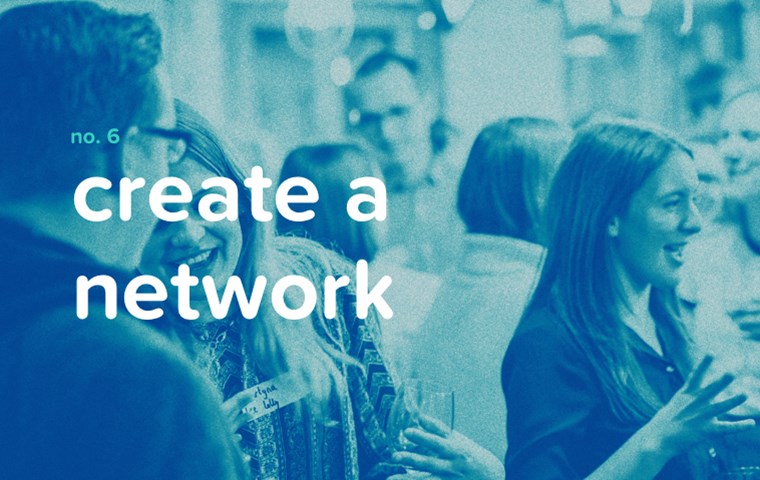 6. Create your network
Creating a network of people around you is invaluable, whether you're a student or currently working in the digital industry.
Making friends with people in the same industry as you really is the perfect way to create new opportunities - whether it's collaborating on side projects together, for job referrals and work opportunities, or for general work-related advice, these connections will all come in useful throughout your career.
Something you'll quickly learn when living in a close-knit creative community is that everybody knows each other. It's an amazing thing, and there's always another meet-up or event around the corner, so anyone new can get to know others in the industry. In fact, some of my favourite side projects began by getting to know the people I work with and becoming good friends outside of work. Every single one of my freelance jobs has been through word of mouth too, and when I was a student, I even secured placements by meeting people and talking to them - instead of getting lost in their inbox.
Social media has also been a great platform for my career, enabling me to discover other local creatives and make real-life connections.
While studying graphic design at university, I gained an interest in digital design. This wasn't something that was really taught on my course, or many people were interested in, so I started looking elsewhere for like-minded people and experience.
How did I do it? I began by turning up to local events by myself to meet people in the industry, which led to a few great opportunities. One of these involved meeting another designer who introduced me to his Creative Director. They asked me to send my work over, which then led to a four month placement at a leading digital agency in Leeds! This experience was invaluable to me and provided a great insight into what agency life is like. 
Being afraid to turn up by myself, but doing it anyway, was one of the best things I did while I was a student as placements and creating connections were incredibly important for getting a foot in the door.
I still go to events now - sometimes by myself - and I still find them as beneficial as I did back then.
So how do you create your own network?
The first step towards starting your own network? Attend networking events. I know they can be intimidating, particularly if you have nobody to go with or feel anxious in social situations. Even more so, if you turn up and you are one of the handful of women there, and the speakers are predominantly male.
However, the opportunities to meet others and learn from people are just too good to miss!
Something event organisers can do to encourage women to attend - and show that they belong there - is by making the speaker lineups more diverse. Time and time again I see events where the lineup is overwhelmingly male. This is a problem when the numbers of women in the industry are so low (26% and this number gets much lower at senior levels) - how are women going to think they belong in this industry when they don't see any examples of them?
There are lots of events which were created to showcase the women in their industry - such as She Does Digital. Some of the best in the UK include Ladies That UX, Lean In and Ladies, Wine & Design (they have chapters all over the world!)
by Danielle Harrison, Creative Designer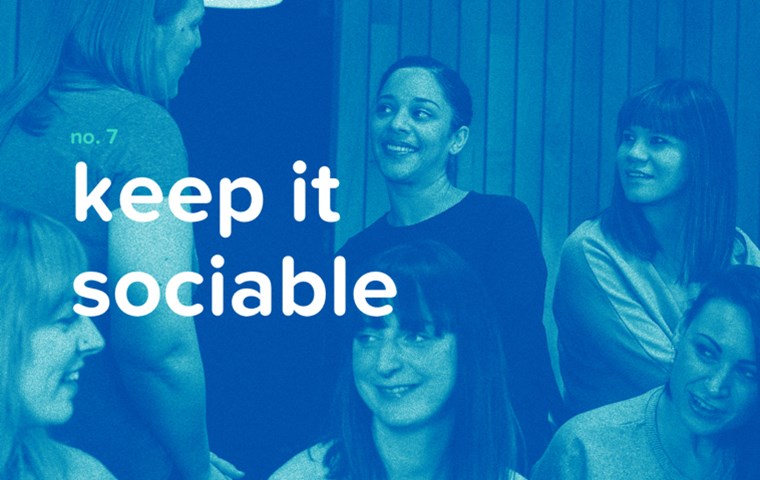 7. Keep it sociable
Everyone is on social media these days. Both employers and potential candidates can use social as a tool to reach out to potential employers/employees without having to fork out huge recruitment fees or spend hours trawling through recruitment websites - if you're not using social, sign up now!
For employers, using platforms like LinkedIn, Twitter and Instagram can really help with recruitment. This can be done organically with little spend behind campaigns. LinkedIn, for example, can be a useful tool for head hunting and starting a dialogue with people that share similar skills in the industries that you require.
The other thing you can do is build your profile as a business on social - but be sure to choose your networks wisely. Your approach to each channel should be tailored and targeted. Instagram, for example, is a great way for businesses to showcase their culture and what its like to work there, which can be appealing for prospective candidates as it offers real insight into who you are as a business. Using a mix of media and content types such as imagery, gifs, quotes and video content can really encourage engagement.
For candidates, social media can be a great tool for helping you to do your research on prospective places to work.
Social channels can give different insights and helpful information about jobs employers are recruiting for (which may not be advertised widely), alongside information on what it's like to work there.
Manage and use your own social media channels wisely and tailor target your approach to each one. If you can separate your personal and professional life on social do it. Social profiles are very accessible, so bear this in mind when you are talking openly or putting content on your channels which might be deemed dubious or unprofessional in the eyes of a prospective employer… even though they say they don't look at personal profiles, I know many people who do when it comes to recruiting!
Use certain channels to your advantage too. If you're a creative, for example, showcase your work on Instagram, talk about creative on Twitter and use social in general to engage with others in the industry, follow industry influencers and businesses you aspire to work for and use it to demonstrate your passion for what you do.
by Rose Mountague, Creative Director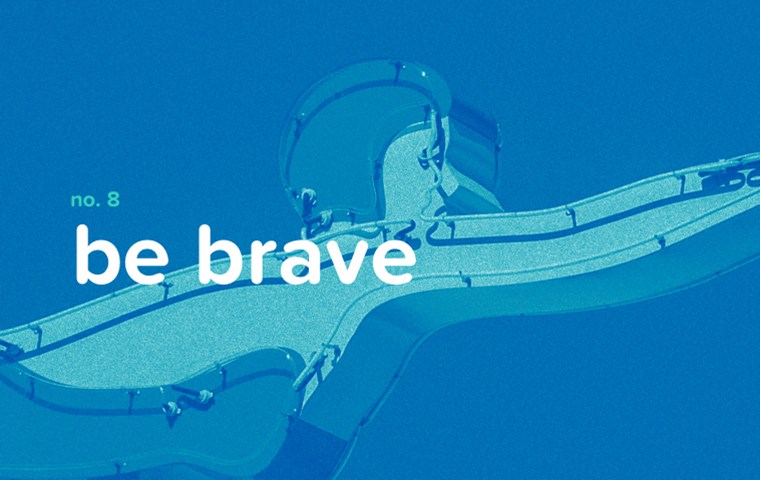 8. Be brave
Not everyone takes the traditional route into digital, so don't be afraid to take risks!
When I graduated from university, my career path was clear. I went to work in a hospital, doing all things science and following the natural route for my qualification. At the time, I was also writing a low-key blog (the millennial thing to do) and completed a Post-Grad degree in Psychology as I was always fascinated with the human mind. After two years of counting blood cells, measuring DNA concentrations and analyzing genes, I realized that I wanted to utilise my newly-gained knowledge and skills in human behaviour and psychology. Making that decision wasn't easy though, having a safe and sound place in NHS is a lovely feeling, but at that time I was hungry for a challenge, even if that meant that the job I'd be going for wasn't going to be there for life.
I have to admit, I wasn't sure where to start and was quite scared of applying to anything digital.
Three questions never left my side: 'Will I fail at this?', 'Can I do it?' and 'What if?'. But I had to put those questions aside and be brave enough to start applying.
Initially, I thought I would get a Copywriting role as my blog was the only thing I'd been doing for a long time. However, I realized that I'd acquired some of the skills which were needed in the industry already: logical and critical thinking, understanding of human behaviour alongside excellent writing skills.
I ended up applying for a role in Conversion Rate Optimisation, and although it was the only job I applied to, I was very excited about the whole idea of it. Eventually, I got the job and I'll always be grateful for the people who hired me, the main reason they did was my excitement and ambition - at that point, I had little-to-no actual knowledge in digital. However, being brave and facing my fears eventually secured a great career - and I enjoy what I do.
Finally, taking a non-traditional route really does make you stand out from the crowd, all while helping you to see things from a broader perspective. Be brave, take risks, showcase your best skills and take whichever direction you have to, to get where you want to be.
by Ginny Gervyte, CRO Analyst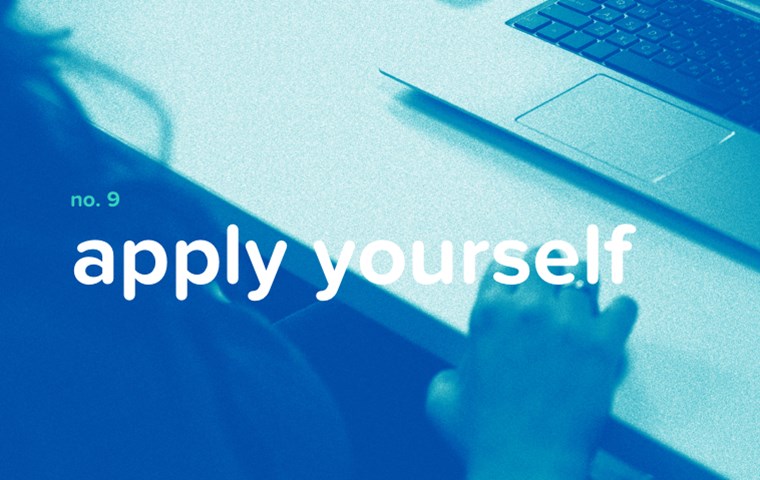 9. Apply yourself
The following statistic is one that is widely quoted: women apply for a job when they meet 100% of the criteria, while men apply when they meet 60%. How do we bridge this confidence gap?
While it's easy to say "just have faith in yourself" and "be more confident", this advice can sometimes feel a little elusive. Instead, when applying think practically - if you see skills on the job application that you think you can learn and develop on the job, then apply.
Digital skills are in demand and if you can develop these using online tools, by attending workshops or even by self-teaching, then you stand a better chance when applying.
A friend of mine only realised how much she discredited herself when applying for jobs when she looked at her partner's CV. He had written, with great confidence, about the mandatory week-long work experience he completed when he was 15! And while my advice isn't to hark back to your teenage years spent shadowing various managers in various offices, consider mirroring his confidence when discussing experiences. If you have something interesting, relevant and worthwhile to discuss (and you probably do), then do so with similar self-assurance.
If you're put off by the rules of applying or worried about ticking all of the boxes, try networking instead. The 'rules' are a little looser and you might find you can talk about your experiences in person with more confidence. Some good places to start if you're looking to network are www.meetup.com, www.eventbrite.com and www.leanin.org.
by Charly Bowen, PR & Earned Media Account Executive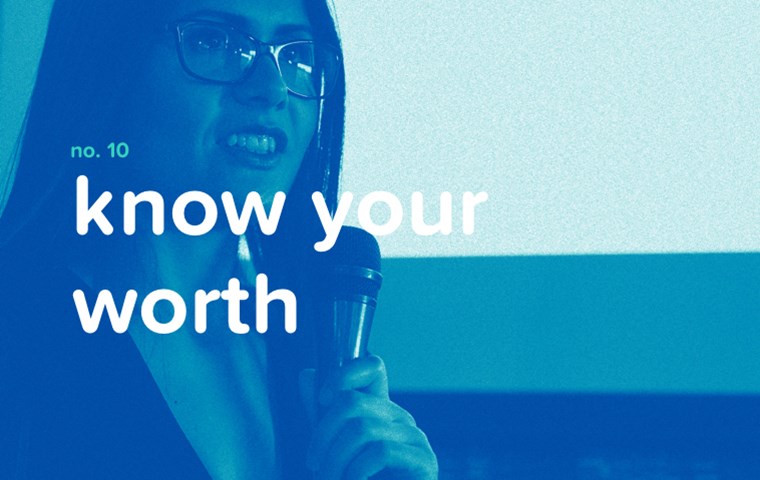 10. Know your worth
So, you're not like the others? Good! That means you bring something unique to the table.
Ask a friend to write down your strengths while you do the same. Then compare notes. What has your friend written about you, that you weren't previously aware of?
People have a tendency to underestimate their skill set - struggling to realise just how great they actually are.
Are you the person who rallies the team together? Or the calm voice of reason in the middle of a storm? Are you the ideas machine, or the person people call upon to deliver those ideas to tight deadlines? Everyone has their strengths.
Being self-aware of your value can build the foundation of your confidence. Let it bolster you to stand up, speak up and be counted. We can't have our world shaped by the same voices, a droning collection of clones, who say nothing new. Acknowledge your self-worth and be brave enough to spark that change that can set the world alight!
by Tanja Lichtensteiger, Software Development Manager