She Does Digital has been on pause during the pandemic. Two years(!) on… and we're back and ready to restart our mission to get more women into the digital industry in Leeds and beyond.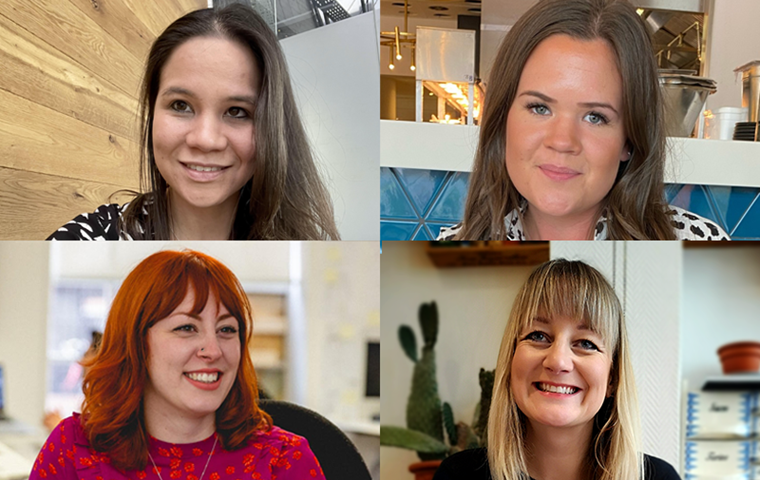 A few days before lockdown the She Does Digital team had been busy confirming our special guests for our event titled; 'Work, Life, Balanced?' - our 5th annual event at the Leeds Digital Festival. We were buzzing, we'd had a great amount of interest in the event and an amazing line up that we couldn't wait to unveil.. 
Then covid hit and put a stop to it all.
With no social contact, no events, no kids in schools, working from home and everyone locked down, we decided to pause our work on She Does Digital as no one had any idea what was going to happen to our jobs, the industry and our futures..! The last two years feel like a bit of a time vacuum as it has for everyone but so many things have changed for us as a team..  There have been redundancies, new jobs, promotions, house moves, babies and more..
But we're back! 
And our theme 'Work, Life, Balanced?' seems to have taken on a whole new meaning and is perhaps even more relevant now than it was back then! Work and life have totally changed since we first planned the event and as for balanced… 
The last two years feel like a bit of a time vacuum as it has for everyone but so many things have changed for us as a team..
How is it working out for you? 
We're looking to re-arrange our event at the end of Summer 2022. If you are interested in telling your story, please get in touch at [email protected]
Meanwhile - I thought I'd put this question out to the team as I thought it would be a good place to start to re-introduce ourselves..
Meet Rose Mountague - Creative Director at Magpie
I never imagined that my dining room table would be my office for the last two years and that I would spend so much time staring out the window at the pigeons and squirrels that party in my garden!
I changed roles in the pandemic and moved to Magpie, a creative behaviour change agency. As my previous role of 9 years ended, my new role began… with me sat in the same spot. 
I've tried to work on work life balance... but I have to admit, I'm more work work work work life life life right now (I work 4 days a week) which isn't very balanced.. ! Work bleeds very much into life on the weekdays. I used to love working at home but I really miss the office and the collaboration and creativity that bringing people physically together brings. Give me a physical wall and post-its and humans any day. 
Meet Maddie Oliver at The DataShed
Personally I thought the whole 'work from home' thing was quite exciting when lockdown began back in March 2020, but that novelty soon wore off. What I love about working in digital is that the culture is amazing, everyone is passionate about what they do and I think part of that experience is being able to meet in person for workshops and problem solving activities – I'm working in a hybrid model now, which is the best of both worlds, I can keep on top of my laundry in my WFH days, and I get to see the fab team in person on the other days! A remote working structure has worked really well for people, and having access to so much decent tech has meant that the transition was quite straight-forward, but working in project management meant I definitely was looking forward to hosting some in-person workshops and working sessions in an office setting.
Meet Danielle Harrison - Designer at Rabbithole 
I have been very lucky in that I can effectively do my role as a designer while working from home. The hybrid model works well for me as I love collaborating in the studio with fellow creatives as well as enjoying the flexibility and focus that working from home allows.
My clients have had to adapt over the past couple of years and their resilience has meant I've still been able to help them solve problems through design and work on fulfilling projects.
Meet Nic Good - Operations Project Director at IMA Home & COO / Business Owner at That Works for Me
Things certainly slowed down during the height of the pandemic but my roles have really stayed the same. If anything, it has strengthened my business proposition for 'That Works for Me' - my side project which is all about flexible and remote working. We have proved during this period that lots of roles can be fulfilled whilst working under these conditions without it impacting productivity!
We will be regrouping over the next few weeks to kick start activities again to please get in touch if you'd like to find out more about us and if you'd like to get involved.
If you are a business, school, college or university and would like some help inspiring women into the industry please get in touch.
We're also looking for people to:
Join the team - we're currently looking for volunteer social media specialists, copywriters and web developers
Be involved at our next event - we're looking for people willing to share their thoughts of how the pandemic has affected their work life balance and give their insights into their journey into the digital industry. Interested in speaking or know someone who would be great to feature? Contact us!
Be a role model - we are looking for people to interview for our 'Where did you start' series to help raise the profile of women across Leeds and beyond. Its a simple Q&A you can do in your own time. Email us to get involved.
Join our network - Sign up to our mailing list to become part of the She Does Digital network and be contacted about opportunities to speak at events, help with students, mentoring and more.